On the headland directly to the left of the port, and behind the headland towards Livadaki which is grown together with Livadi, lies mainly hotels and pensions. To the right, along the waterfront, tavernas, cafes and bars crowd together. Many of them have tables at the waterline. The food is often very good and very Greek and the prices are relatively low.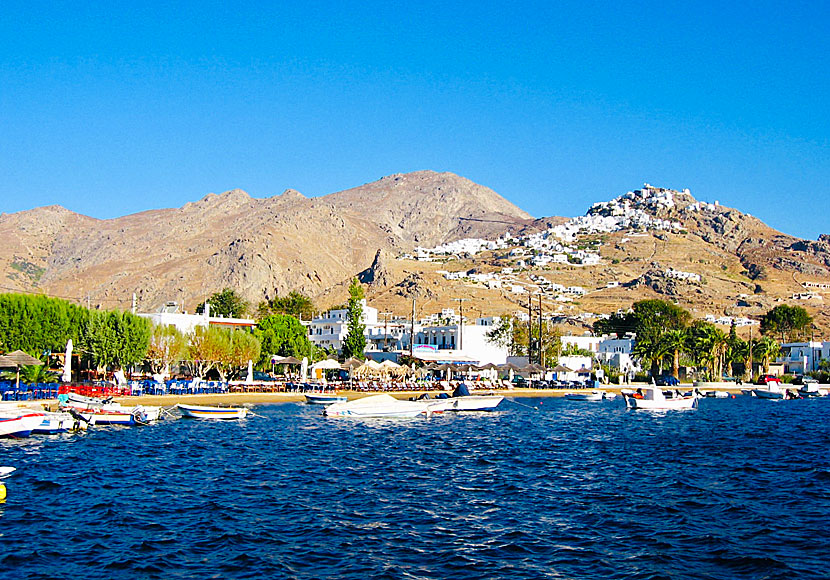 The beach promenade in Livadi. Chora is visible above.
The small amount of nightlife on Serifos is concentrated in Livadi, here are a few discos and some music clubs open in high season. You can have a beer or a cup of coffee and people-watch along the waterfront, or recline in a lounger at the edge of the beach and sip at a drink. Taste the domestic wine, sweet, strong and good. Please go to Chora one evening and have dinner there, then you can have a look of Livadi from above.
The long sandy beach alongside the bay of Livadi has an exceptionally beautiful location and is very inviting from a distance, but on a closer look, the beach is quite ordinary. Hard-packed light brown sand and shady tamarisk trees that border the shoreline as well as several hotels and tavernas. The best thing about the beach of Livadi is the proximity to hotels and tavernas. It is quite close to better beaches, like Agios Sostis and Psili Amos.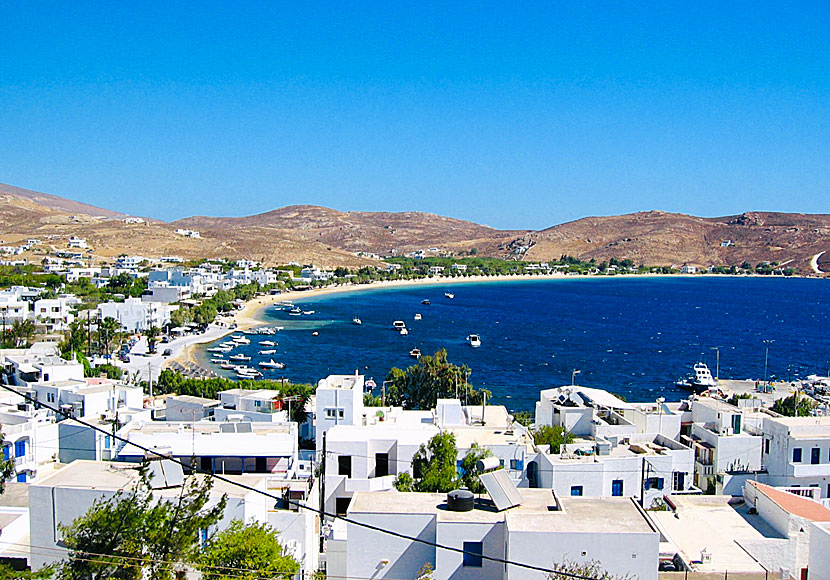 ACCOMMODATION IN LIVADI
The range of accommodation is quite poor in Livadi, but there is some pensions, but not as many as you might think. Most hotels and pensions is located in Livadaki, from where it is a walking distance to Livadi. Astarti Apartments, Aliktypo Studios and Naias are three good hotels.