You can read more about Antiparos via the links at the end of this page. A short summary of the information comes here:
It is possible to go to Antiparos on a package holiday from some countries, check with a travel agency in your country. If you are going to travel independently, the easiest way is to fly to Santorini. Santorini has very good boat connections with Paros which is the only island with regular ferry service to Antiparos. The ferries to Antiparos leaves from Pounda and from Parikia on Paros.
Practically there is only one village, it is also called Antiparos, but commonly called Chora. The great allurement of the village is the cosy main street that leads through the whole village. Along the street there are shops of all kinds, many tavernas and cafes and some bars. The village's main attraction is Kastro, which was started to be built in the 1440s and is located by the main square.
The beaches closest to Chora are very child-friendly, especially the village beach called Agios Spiridonas, which is extremely shallow. Psaraliki 1 and Psaraliki 2 are also within walking distance of the village, and they are also child-friendly. My favourite beaches are Soros Beach and Agios Georgios Beach. The island's official nudist beach - Nudist Beach - is located about a kilometre north of Chora.
The dripstone cave is Antiparos' chief attraction and was once considered to belong to one of Europe's most fascinating caves. The most spectacular parts are illuminated by colourful spotlights to intensify the effect of the stalagmites and stalactites. Once you reach the bottom of the cave you have 360 steps up to the "surface" again.
The range of accommodation is wide and the standard is quite high. If you have not booked your accommodation in advance, you can follow one of the letters of rooms who usually meet all ferries that arrives at the port. You can also search independently, the distances are quite short.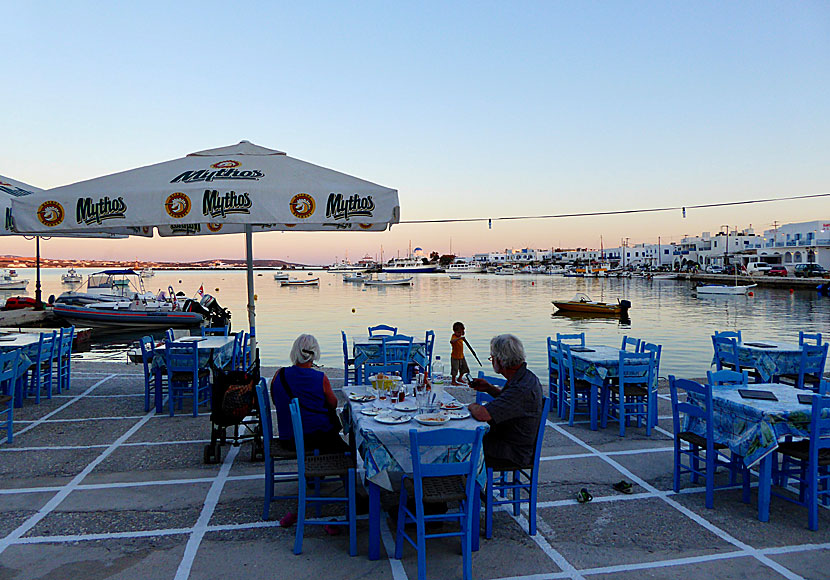 The evenings are magic in Chora in Antiparos.