There is a beach on both sides of the village, and it is so cleverly arranged that one is a sandy beach, and the other is a pebble beach. So no matter what kind of beach you prefer, you will find it in Paleochora.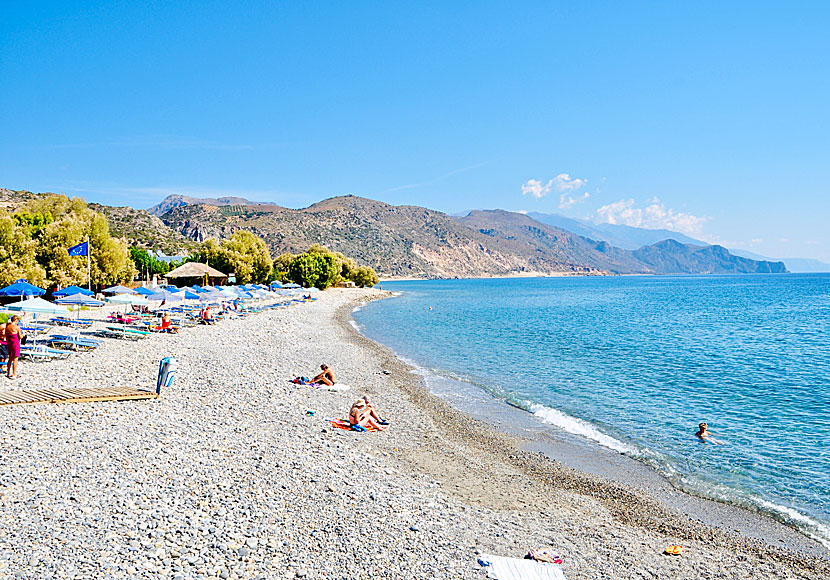 The pebbly beach of Paleochora.
The sandy beach is shallow and suitable for families with young children. There is really no distance between the beaches. You can go for a swim on one beach and lie and dry on the other. In addition, there are a number of nice beaches not far from Paleochora, including the beaches Gianiskari and Anidri, as well as Grammeno and Krios. As if it were not enough, there are beach boats to the beach paradise of Elafonissi every day in good weather.
Between the beaches is the village itself. The main street Venizelos is the village's artery and the square its heart. In the evenings, the square is crowded with tourists and locals having a drink or a glass of wine before the dinner. I can sit here and linger away a lot of time and watch the world go by. The main street is closed for car traffic in the evenings. Then the tavernas, ouzerias and bars move out their tables and chairs onto the street. I promise you that it is as cosy and pleasant as it looks like in the picture below.
There are plenty of tavernas and most of them serve good Greek traditional dishes. Perhaps the hardest part is deciding whether to eat at one of the beaches, or among the alleys in the village. I have eaten excellent food in Paleochora, but it has also happened that I have been disappointed, additionally at the same places, so it is not easy to recommend a place to eat.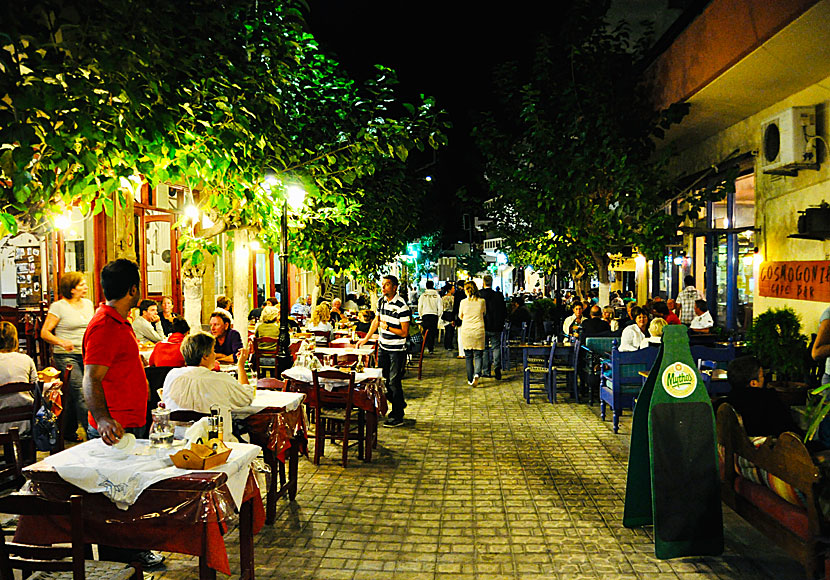 The main street is closed for car traffic in the evenings.
The Third Eye is a vegetarian restaurant where we have always been happy with both food and service. The restaurant is located in a block near the sandy beach. Ouzeri Pantelis is also a sure thing. You will find Pantelis if you go down the main street to the big church. Before you reach the church, turn left, and there is Ouzeri Pantelis. We have also eaten very good food at the relatively newly opened Methexis Taverna.