In the square is a cafeteria under shady trees where you can sit for hours and linger over a book and a frappe (iced coffee). There is not a car or scooter as far as the ear can hear, a meowing cat under the table is perhaps the only sound you hear. A great lunch taverna with lovely views overlooking the village and towards Naxos is located just at the beginning of the village, about where the road ends. There is also the village's only museum located, and several craft shops and ceramists.
The cozy square in Lefkes.
Lefkes' most important attraction, and the village's pride, is the cathedral of Agia Triada. The cathedral was built in 1830 on the ruins of three small churches, whose icons are on display in the cathedral. The cathedral is built of marble from Paros and is really beautiful.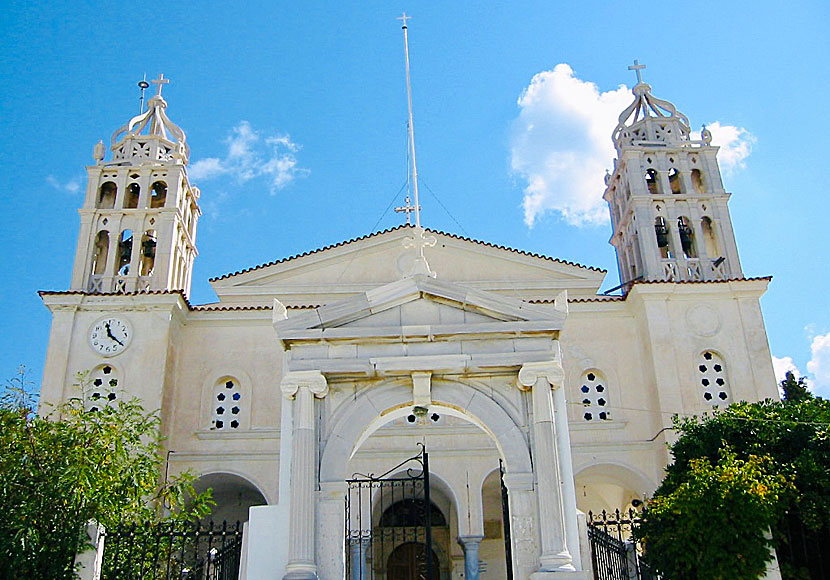 Agia Triada Cathedral in Lefkes.
ACCOMMODATION IN LEFKES
Every time I'm in Lefkes I ask myself how the village is in the evening, and how it is to stay the night and wake to the rooster crowing. Unfortunately, it still shas not happened. But I can only imagine how nice it is to stay overnight, or even several nights. If I were to stay in Lefkes I had chosen Lefkes Villages, which looks very nice out.
You get to Lefkes with your own transport or by bus from Parikia or Naoussa.