Another Spetses celebrity is Laskarina Bouboulina (1771-1825). She fought against the Turks during the Greek War of Independence. Among other things, she was known for her temperament and her love affairs. After the war, she was posthumously appointed admiral. Which must have been extremely unusual for a woman even at that time. The house where she lived has today been turned into a museum, and her statue is everywhere in Greece, not just in Spetses.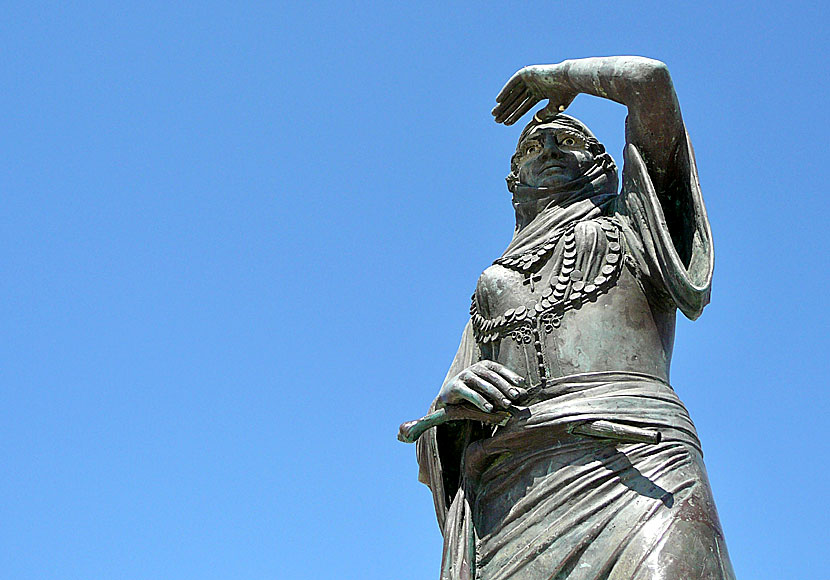 Laskarina Bouboulina in Spetses town.
TRAVEL TO SPETSES
Fly to Athens and onward by boat from Piraeus. There are many boats every day to Spetses, and the boat trip takes about 2½ hours if you go with the fast catamarans. Spetses also has very good boat connections with Hydra and Poros, as well as with Ermioni and Porto Helio in the Peloponnese.
Book ferry tickets online here »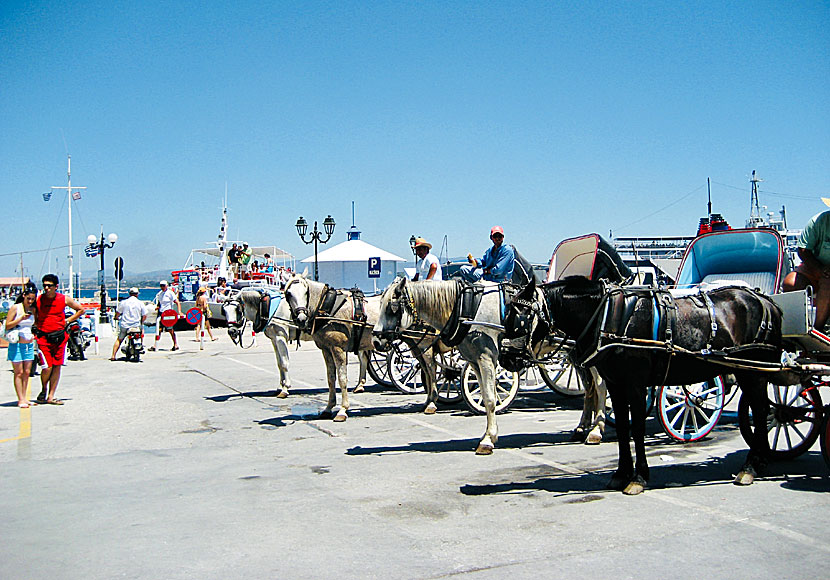 Horse-drawn carriages in the harbor in Spetses town.
GETTING AROUND ON SPETSES
Bus and taxi boat to various beaches depart from Spetses town. Mopeds and bicycles are available for rent, but not cars. Expect high prices, especially on weekends. If you like horses, you can ride a horse-drawn carriage in and around Spetses town
The island is so small that you have time to drive around the island in one day, including swimming and lunch. You can also go on a boat trip around the island.
The fact that it is not possible to rent a car is because Spetses is a car-free island, but it is a truth with a modification. Private cars are prohibited, while commercial vehicles and buses are permitted. Instead of a car, everyone, and it seems like everyone, owns a moped or motorcycle.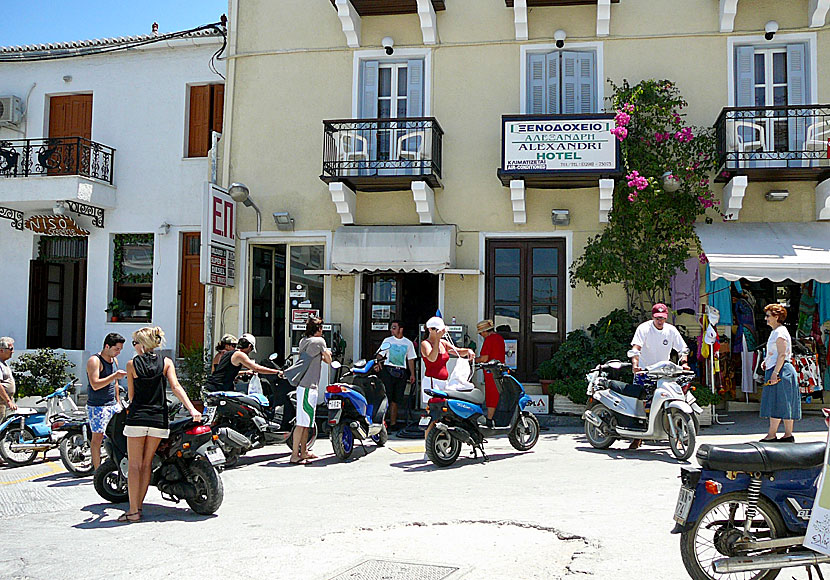 Mopeds and motorcycles are the most common means of transport on Spetses.
VILLAGES ON SPETSES
The town of Spetses is the island's only village. It is almost completely dominated by the area around the port of Dapia, and the long harbor promenade that stretches all the way to the old port, called Palio Limani.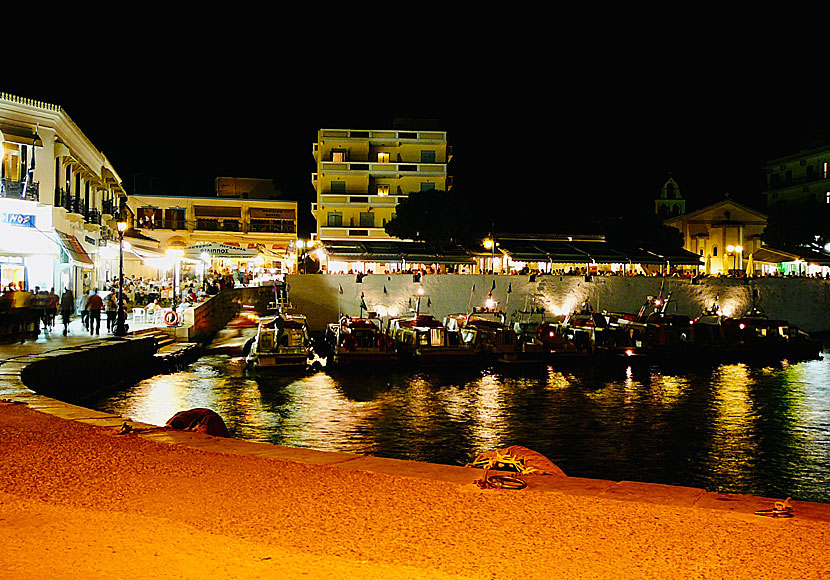 The port promenade in Spetses town.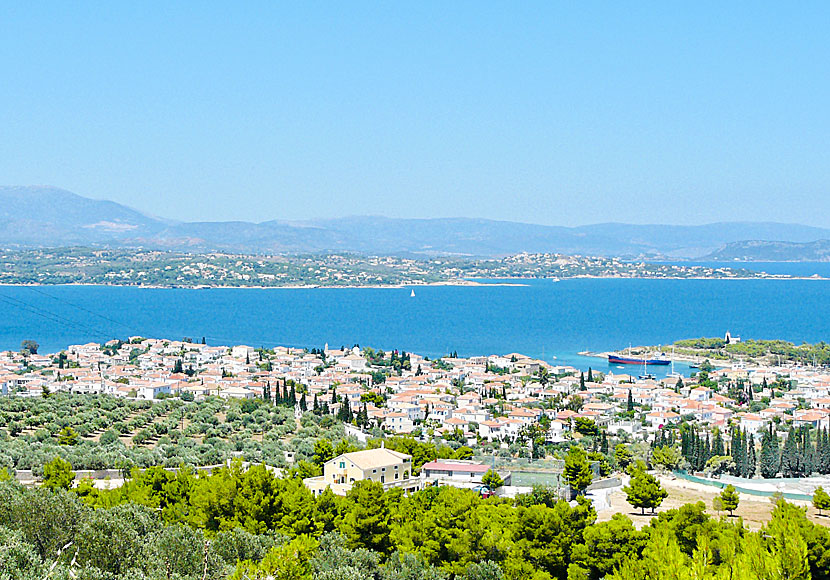 View of Spetses town. Peloponnese the background.
Along the water there are a lot of nice houses, and lots of taverns (Taverna Bouboulina is very good!), bars and cafes, just like in the alleys above the port promenade. I can recommend a visit to the neighborhood of Palio Limani, and the small bay of Baltiza which is located just beyond. In Baltiza there are many boat building workshops.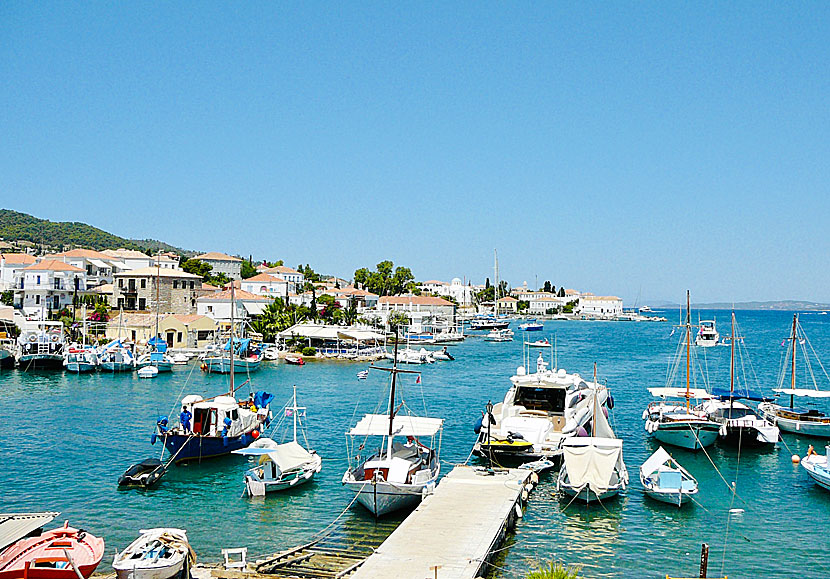 Palio Limani is the old part of Spetses town and is very beautiful.