Personally, I think it is one of the best beaches on the island. Especially the water is incredibly clean and crystal clear and enormously inviting, even for a notorious bath coward like me. The beach consists of soft small pebbles. The beach changes from small pebbles to large pebbles further away towards the Pebble Beach Hotel. No wonder the hotel is named as it is.
The far end of Agios Isidoros beach.
Just outside of Agios Isidoros, along the road to Plomari, lies the famous ouzo producer Barbayianni. They have produced ouzo since 1860, and still do so today.
In the beginning there was only one kind of ouzo: Barbayianni Blue. Today, four brands are offered: Barbayianni Blue, Barbayianni Green, Barbayianni Aphrodite and Barbayianni Evzon. The green is weakest (42%) and Aphrodite is strongest (48%). They produce about 1,000 litres of ouzo per day. In the same building as the distillery, there is a museum. A tour with guide costs nothing, and you are welcome to taste and, of course, buy ouzo. Open Monday to Friday from 9 am to 4 pm.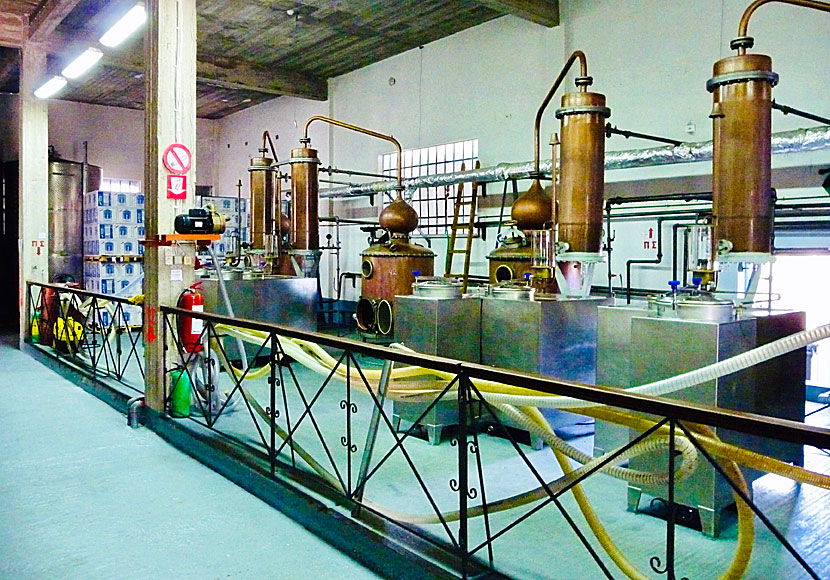 The famous ouzo producer Barbayianni.
When we were here we were guided by a descendant of the first Barbayianni. If you are lucky, you also get him as a guide. His name is Manolis Barbayianni and he is very friendly. We were here on a Friday afternoon. When the employees finished for the day they got a large bottle of ouzo to take home. Manolis told us that it was an old tradition that the employees got a bottle of ouzo every Friday.

ACCOMMODATION IN AGIOS ISIDOROS
If you are going independently to Agios Isidoros, I can recommend Akrogiali Hotel only 50 meters from the beach. Most rooms have a balcony with sea views. The pension is family owned and Irini who runs it is really nice. A small cafe is housed on the ground floor. Another good accommodation is Pano sto Kyma.
Pano sto Kyma »

Book other hotels in Agios Isidoros and Plomari here »