I've been to Anafi twice. The first time I was in the room with a high fever during the entire stay. My wife Camilla made a short boat trip to the beaches, sadly without camera. We went unhappily to Santorini again without having seen, or experienced the island.
The second time we went to Anafi in middle of August, and every room on the island was booked. So neither this time we got to experience Anafi. Therefore, I have pictures of Anafi. We had planned to sleep outside the port of Anafi that night, but luckily we got a rescuing angel and rescued us,
TRAVEL TO ANAFI

The best option is to go by air to Santorini, and travel on by ferry to Anafi. Anafi has boat connections with several islands in the Cyclades. Expect long boat trips if you go from other islands than Santorini. You will find a link to a boat timetable at the bottom of the page. Anafi has also boat connections with Karpathos, Rhodes and Crete.
Book ferry tickets online here »
The beach in in the Port.
GETTING AROUND IN ANAFI
The bus runs between Chora and the port, and to the monastery Moni Kalamiotissa. On the way to the monastery the bus passes several beaches, including Klisidi beach. From the port there are bathing boats to all the beaches on the south coast. Scooters, motorcycle and car available for hire.
VILLAGES IN ANAFI
The only village on Anafi is called Chora and is about 10 minutes by bus from Agios Nikolaos, which is the port of Anafi. In the port there are a few tavernas, one bar, one travel agency, one shop, a few pensions and one ATM. Behind the harbour is an electricity-producing diesel unit that hums. If the wind comes from "the wrong" direction, the sound of the power station can be disturbing.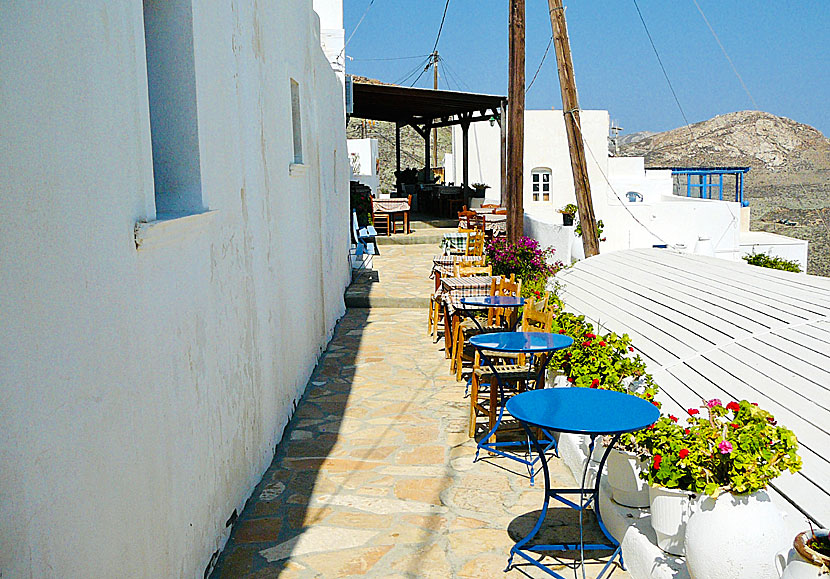 Almost all inhabitants lives in Chora about 260 meters above sea level. It is a super cute village with narrow alleys and whitewashed houses. Chora is so beautiful and charming that you might think that it's a movie backdrop. There are shops, pensions, cafes and several tavernas, most offering divine views of the sea.