Which historical sights should you see? The answer is that you will probably see all of them since they are almost impossible to miss. Wherever you stroll in the historic districts of Kos Town, there are vestiges from former times.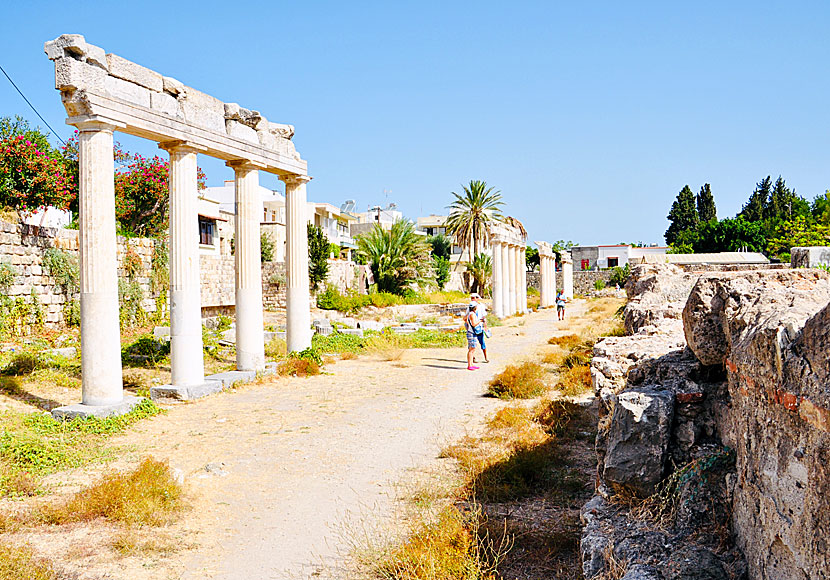 Columns from an old gymnasium in Kos Town.
If you arrive by ferry to Kos, you will not miss the majestic Knights' castle (see picture of the castle here) that stands in the port. The castle served as one of three imposing defences of the Knights of Saint John. The other two are the Knights' castle in Rhodes' old town and the one in Bodrum in present Turkey. The Knights' castle began to be built in the 14th century, but has been rebuilt and renovated several times over the centuries. The Knights' castle consists of an outer and an inner wall, previously the castle was surrounded by a moat. It is a majestic building that is well worth a visit.
Not far from the Knights' castle is a square that once was one of the most important squares in Kos Town. The square holds Hippocrates' tree which is said to have been planted during his lifetime. Hippocrates is often called the father of medicine, and he is believed to have written the Hippocratic Oath. Parts of the oath are sworn today by newly graduated doctors. Hippokratic Oath begin as follows:
"I swear by Apollo the Healer, by Asclepius, by Hygieia, by Panacea, and by all the gods and goddesses, making them my witnesses, that I will carry out, according to my ability and judgment, this oath and this indenture..."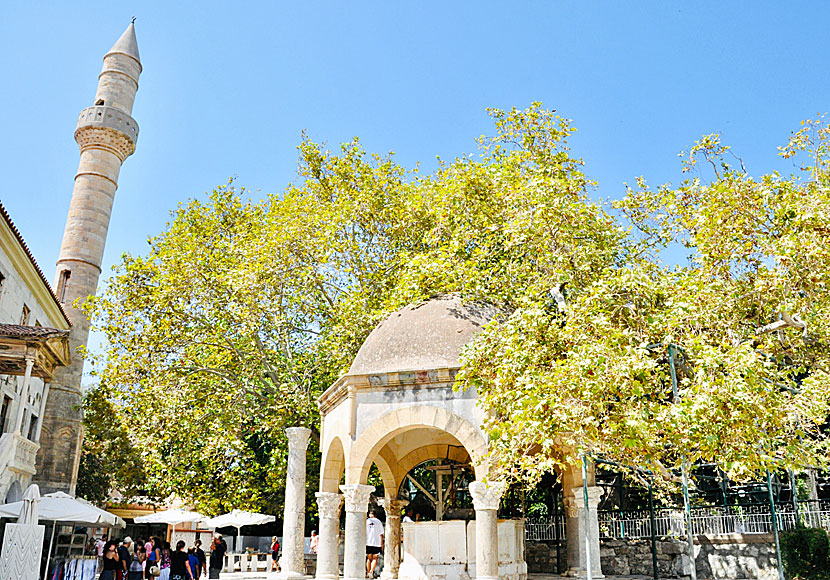 Hippocrates tree and the Ottoman fountain.
Hippocrates' tree certainly looks ancient, but not as old as from the time of Hippocrates, it is impossible because he died about 370 BC, and trees can not be that old. Next to the tree is a beautiful Ottoman fountain and opposite stand the Hassan Pasha Mosque with an impressive minaret. The mosque is today incorporated into the omnipotent exploitation of Kos Town and serves as a souvenir shop.
Other interesting historical monuments include the Roman excavations at the street of Grigorio, as well as the old Roman Odeon and Casa Romana.