Agathonissi is an almost as unknown island as Psara.
GETTING AROUND ON PSARA

Psara lacks public transport, there are not even taxis here although there are a number of cars for local transport. In other words, you have to go on foot.
VILLAGES ON PSARA
There is only one village and it is also called Psara. The village is beautifully situated, like an amphitheater, sheltered by a high pyramidal rock, with the port and port promenade on one side and a pebble beach, flanked by an impressive church and associated monastery on the other. Otherwise, the building is not particularly noteworthy.
Most houses are simply built around a few narrow alleys. But on the outskirts of the village there are also signs of a certain prosperity with a number of modern, rather lavish houses. One explanation is that some of the islanders get a good income from the shipping industry.
BEACHES ON PSARA
The water around Psara is soft and clear. In the village itself, west of the cliff, there is the above-mentioned beach with gravel. At the end of this beach there is also a tavern. Very close, to the northeast of the village, there are a number of small fine sandy beaches in a row one after the other. Although the chance of running into any other people is quite small, the further away from the village you go, the more likely it is.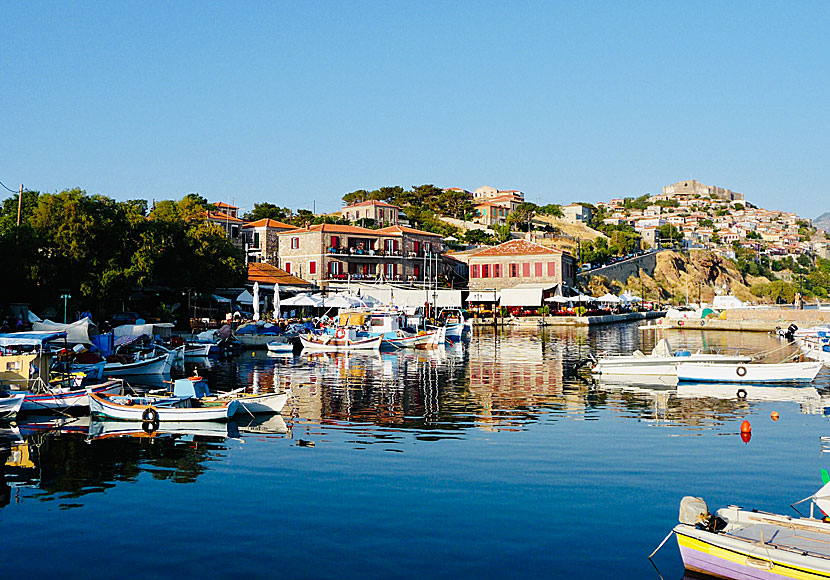 Lesvos is another of the neighboring islands. The picture is from Molyvos.